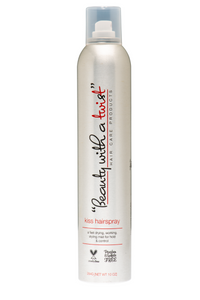 Undoubtedly, hair is the most important part of your look. So if you want to keep your hair healthy, happy and more manageable, get the amazing Kiss Hairspray!
With Kiss Hairspray you can enhance the beauty of your hair without any chemical abuse. It is non-greasy and sticky hairspray, which works great for long hair. Even if you want to give your hair more volume, hairspray can help you to do so. It can lift your hair off the scalp and make them appear in the maximum volume.
Amount of Goodness bottled up
2.25 or 10 fl. Oz
How To Apply
Ideal for both finishing and styling, this fast-drying hairspray delivers instant, lightweight control. To build hold throughout the day, reapply and layer.
Why You'll Love Beauty with a Twist
Beauty with a Twist uses premium quality and certified natural ingredients with no animal testing. Our hair care products are 100% free from sulfates and parabens.