Celebrity stylist Oliver Ifergan has a gift for beauty handed down through generations.
After years of cultivating his talent by training and working with some of the most internationally recognized brands and stylists across the globe, Oliver found himself in Los Angeles, California.
Mesmerized by palm trees and sandy beaches, Oliver sought to create a brand that captured the essence of the California lifestyle. Beauty With a Twist was born in 2013.
Since then our focus has been to deliver the best products in the industry. We use only the highest quality, organic certified ingredients, no animal testing, and most of our products contain no sulfates or parabens.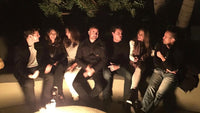 We know, you all want to find THE shampoo of your life! Just like Cinderella looking for the missing shoe to her pair of heels, your hair is looking for the shampoo it needs.
A shampoo so cool, so nice to your hair that you will make it your BFF.



Your hair gives you confidence, prepare it for everything coming up during your day!
Conditioners do so much more than you think of!
​Just like you moisturize your face; you need to moisturize your scalp too. A conditioner to get you ready to face anything.

Reach your ultimate #hairgoals everyday, without the need of your beauty squad!
Life is hard, but looking good SHOULD be easy.
​Texturize, wave, hold, hydrate and more. At home or on-the-go. Make people fall in love with your hair, and with YOU.


8800 CHARLEVILLE BLVD. BEVERLY HILLS, CA 90211
TEL: (310) 498-1505